Between the COVID crisis and the election mayhem, very few Americans have come through 2020 unscathed in some way, or another.  Forbearance on foreclosures and evictions has already significantly impacted large and small businesses within the real estate investing industry.  Although the masses continue to ignore the white elephant in the room, moratoriums will draw to an end, evictions will be inevitable, and foreclosures will rise.
As a servicing agent on behalf of passive investors, the PIP Group has made the claim that the areas they invest in are "recession-proof" and as a result, we have always chosen markets with lots of first-time home buyer incentives. Now I do not believe the impact is going to be at levels we saw at the peak of the last recession, but I do believe we will see the same trends.  The areas we saw impacted the greatest in the peak of the last recession are going to see the most damage in terms of evictions and foreclosures.  Institutional investors like Blackstone are ready to pounce when the opportunity comes mirziamov.ru This is not necessarily a bad thing, as the deployment of private capital is the best option for recovery and that is exactly how we saw things take shape as we climbed out of the recession in 2012.  The problem is institutional investors require much smaller margins to be profitable, than investors like you and me – they likely invest where you live, so don't invest there!
At the peak of the recession, we were hearing the doom and gloom of the real estate market and yes, it was bad.  There are, however, always pockets of opportunity.  An example then, was Charleston, SC.  Through a number of urban renewal programs and city/state incentives for first-time homebuyers, Charleston grew from within.  What was a pretty beat-down city in the midst of the recession, came out to be one of the most desired places to live by 2017.  So much so, it was being compared to as "The San Francisco of the Southeast."  We have seen how COVID has shown the stability of their market, as the northeast moves south with a new way of life and more people working from home on a permanent basis.  So stable in fact, first-time home buyer and middle-class home values nearly doubled in Q3 of 2020. (Source; Attom Data Solutions – Top 10 Opportunity Zones where home prices nearly doubled in Q3 2020)
Charleston was a market big enough to provide high-profit margins to savvy investors throughout the recession, but small enough to keep off the radar of institutional investors, like Blackstone and others.  For 6 years, I have said Savannah, GA., is the next Charleston.  The only difference is that Savannah is still in its infancy of growth and renewal.  However, it is following the exact same trends and patterns, as Charleston did 15 years ago.
As the largest buyer of distressed real estate in the Savannah market, the PIP Group has been embedded in what was already a great growth market.  With a year-over-year appreciation of 9% for single-family residential homes in Savannah, it has been easy to provide passive investors with a 16% annualized yield/promise on fix and flips.  Like Charleston, Savannah wants to preserve its history and charm.  Like Charleston, a low inventory of first-time home buyer homes means internal growth and renovation of long-since abandoned homes.
Let us take a look at just some of what Savannah has going for it:
Savannah is part of a Southeast Region that consists of 60 Market "centers" between Georgia, Tennessee, and Alabama.  Although competing with much more populous cities like Nashville, or Atlanta, Savannah was the second largest city for sold properties and sales volume in 2020.
Savannah's market appreciation has been 9% year over year for the last 4 years – that is nearly double the national average.
Rents in some Savannah neighborhoods have grown by as much as 33% in the last three years, nearly triple the state average.
Due to the lower inventory (new homes) of Savannah, when forbearances end and foreclosure inventory rise, Savannah will easily absorb this, and it will have no negative impact on the market.
According to the Savannah Renewal Authority, Savannah's population is set to grow by 37% by 2033.  I think that is a bit of an aggressive forecast, but looking at 2019/20 data, they seem to be on target.
Savannah has been designated as a "Top 10" in various magazines for the last 12 years, including #4 Family Destination from Traveler Magazine.
In 2020 Savannah transported more containers through its port, than any other port in the country. The ongoing expansion of the port is the driving factor for the population growth.
As with the Obama administration, the Biden administration plans a $15k stimulus to first-time home buyers. Savannah has already been providing similar stimulus, which allows for up to $60k towards mortgages for first-time homebuyers, through its Dream Makers Project.
Savannah has two military bases and an art college with campuses in Savannah, Atlanta, Hong Kong, and Lacoste.
In November 2020 Southwest announced 5 new direct routes to Savannah, beginning in March.  Southwest has never serviced Savannah and this will surely bring more revenue, permanent residents, and increase city renewal.
To preserve its history and charm, the state of Georgia provides a 20% tax credit against repairs of historic properties. Federal provides a 25% credit against repairs.  Nearly 25% of the remaining distressed properties in Savannah are within the historic districts.
Needless to say, Savannah had a lot going for it before COVID, but it has had a lot more going on with COVID and will only continue to follow the trends of Charleston, regardless of what our future economy looks like.  With many of the abandoned properties being converted to multi-family ages ago, there is both flip and long-term cash flow opportunities throughout both re-established areas and those where things are headed.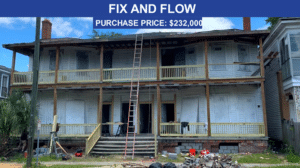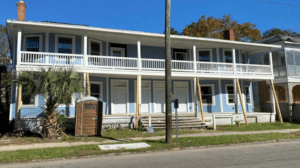 Take a look at this 8bd/4ba quad-plex we converted into a 16bd/8ba cash-flowing machine.  Not including credits for historical restoration, this property will generate over a 12% net CAP.  There are opportunities like this throughout the city.  If you are reading this, you likely do not have inventory, or opportunity like this where you live and that is why – You can live anywhere you want, but invest where it makes the most sense.
I should note, that PIP clients own the tri-plex to the left and duplex to the right, as well as the duplex directly across the street.  There is power in numbers when you can control the market trends.
Remember, it is not just about the right market, but making the buy right too.  The above example has no downside, but typical acquisitions to flip to a first-time homebuyer loans-cash.net, or to take advantage of other programs available in the market, require knowledge of what is hot and what is not.  It doesn't need to be sexy, just profitable, like the following example, which represents 90% of our projects.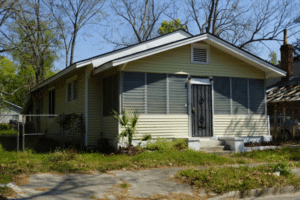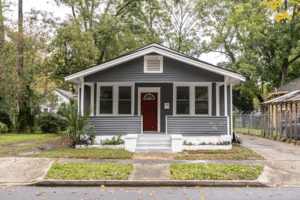 Acquisition price
$64,000.00
Sold For
$199,999.00
Total Expenses & Fees
$63,164.59
Total Proceeds at Closing
$180,780.32
Property Insurance
$1,304.75
PIP Bonus
$12,971.32
Total Investment
$128,469.34
Net Profit
$52,310.98
 
Cash on Cash Return  30%