Aside from tornadoes, fires tend to be the most sudden, destructive, and deadly losses we see in claims. Even those who are aware of basic fire safety measures often forget about the risk of electrical fires. The first step in loss prevention is being aware of what could happen. The Electrical Safety Foundation International (ESFI) presents the following facts and statistics on home electrical fires:
Electrical distribution systems are the third leading cause of home structure fires, behind cooking and heating equipment.
Home electrical fires account for an estimated 51,000 fires each year, nearly 500 deaths, more than 1,400 injuries, and $1.3 billion in property damage.
Each year, arcing faults are responsible for starting more than 28,000 home fires, killing and injuring hundreds of people, and causing over $700 million in property damage.
Property damage can be repaired, and a home can be rebuilt. However, if you are proactive, you may save yourself from these losses and your tenants from severe injuries or even death.
Electrical Systems
Knob-and-Tube Wiring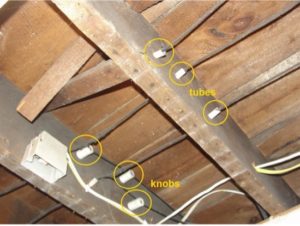 Knob-and-Tube (K&T) wiring was the standard method of electrical wiring in North America from 1880 to the 1940s. This type of wiring consists of insulated copper conductors that pass through stud drill holes via porcelain insulating tubes. The wires are supported by nailed-down porcelain knobs.
Problems Associated with Knob-and-Tube Wiring
This system is outdated and can be a major safety hazard. In fact, many insurance companies will not insure homes that have K&T wiring. The International Association of Certified Home Inspectors (InterNACHI) notes the following common issues:
The system lacks a grounding conductor – Grounding conductors reduce the chance of electrical fire and damage to sensitive equipment.
Wiring insulation is a fire hazard – Older systems contain insulation with additives that can oxidize copper. This insulation was made with varnish and fiber materials that are susceptible to deterioration. The bending of the wires may cause the insulation to crack and peel away.
Building insulation is a fire hazard – K&T wiring was designed to dissipate heat into free air, and building insulation disturbs this process. Insulation around K&T wires will cause heat to build up, creating a fire hazard.
Unsafe modifications are very common with K&T wiring – Part of the reason for this is that the method is so old that more opportunity has existed for improper modifications. In an effort to decrease the risks associated with K&T wiring, amateurs will often incorrectly splice the existing wires with modern wiring.
Advice for those with Knob-and-Tube Wiring
If your property has K&T wiring, you should have the system evaluated by a qualified electrician. If modifications were made, they will be able to confirm it was done correctly. You or an electrician should carefully remove any building insulation surrounding K&T wires. Proper maintenance is crucial for any electrical system. Any wiring or wiring insulation that is cracked or bent should be replaced as soon as possible.
K&T wiring should not, under any circumstances, be used in kitchens, laundry rooms, or bathrooms. The amperage that appliances in these rooms require is substantial. As noted previously, K&T wiring is not grounded and therefore, cannot sustain this kind of usage.
You should install GFCI outlets within six feet of sinks, washing machines, and water heaters. GFCI (Ground Fault Circuit Interrupter) plugs monitor the surge of electrical current moving through a circuit. If a circuit or fuse is blown, these will reset. These outlets also detect moisture and shut the current off to prevent shocks and fire hazards.
Aluminum Wiring
Aluminum wiring was a popular electrical system used in homebuilding in the '60s and '70s. Due to a shortage of copper, aluminum was a cheaper option while still being an effective way to transmit electricity. Almost all aluminum wiring was installed wrapped in Romex and with no distinction from copper wiring. To identify the type of wire in your home, look at the printed markings on the outer jacket of your electric cables (visible in unfinished basements, attics, or garages). Cables with aluminum conductors will have "Al" or "Aluminum" marked on one side of the jacket. While aluminum can conduct electricity, it does not do so as well as copper. Connections can overheat, become loose, and create fire hazards.
Problems Associated with Aluminum Wiring
According to the Consumer Product Safety Commission (CPSC), homes wired with an aluminum wire that was manufactured before 1972 are 55 times more likely to have one or more connections become a fire hazard than a home wired with copper. Neglected connections in outlets, switches, and light fixtures become increasingly dangerous as time passes. According to InterNACHI, the following qualities of aluminum make it a poor conductor when used for wiring as compared to other materials:
Higher electrical resistance – Aluminum has a high resistance to the flow of electrical current compared to copper. Given the same amperage, aluminum conductors must be of a larger diameter than would be required by copper conductors.
Galvanic corrosion and oxidation – When aluminum is exposed to moisture it will undergo galvanic corrosion when it comes into contact with dissimilar metals. Aluminum wire is more easily oxidized compared to copper wiring. As time passes, oxidation can deteriorate connections and present a fire hazard.
Less ductile – Aluminum wiring breaks down more easily when subjected to bending and other forms of movement than more ductile copper wiring. Aluminum wire will break down internally and increasingly resist electrical current, leading to a buildup of excessive heat.
High rate of thermal expansion and contraction – Aluminum expands and contracts based on temperature much more than copper. This process will cause connections between the wire and the device to degrade in effectiveness and durability. Aluminum wires should never be inserted into the "stab," "bayonet," or "push-in" terminations on many light switches and outlets.
Malleability – Aluminum is extremely sensitive to compression. For instance, if a screw has been over-tightened on aluminum wiring, the wire will continue to deform in the same way, even after the tightening has been undone. This can create a loose connection and increase the electrical resistance.
Excessive Vibration – Electrical current vibrates as it passes through wiring. This vibration is more intense in aluminum than in copper. As time passes, it can cause connections to loosen.
Advice for those with Aluminum Wiring
Aluminum wiring is not maintenance-free. Terminations need to be inspected and tightened by a qualified electrician on a regular basis. The CPSC notes that complete replacement is the most permanent solution. However, replacing aluminum wiring can be a very expensive project. The good news is that certain repair methods are cheaper and considered just as safe.
As discussed previously, aluminum wiring overheats at electrical connections like outlets, dimmers, switches, light fixtures, junction boxes, etc. So, while completely removing any aluminum wires without a doubt prevents fire hazards, repairing the electrical connections can be an equally safe and cost-effective solution.
The CPSC approves three methods for the permanent repair of aluminum wiring.
Complete replacement with copper cable
COPALUM repair method
Acceptable alternative repair method/AlumiConn connector
In the NREIG Program, locations with remediated CO/ALR, COPALUM, and AlumniConn aluminum wiring are accepted. While NREIG can insure properties that have been remedied with CO/ALR, it is not recommended by the CPSC and may be more challenging to insure. The COPALUM repair method uses a technique commonly referred to as "pigtailing". It involves attaching a small section of copper wire to the ends of aluminum wire at connection points and using a connector called COPALUM to join the wires. If COPALUM repair is unavailable, the AlumniConn connector is the best alternative for a permanent repair. This repair method uses a setscrew type connector when pigtailing instead of the COPALUM crimp connector.
For an in-depth look at these methods of repair, the CPSC provides a Repairing Aluminum Wiring online pamphlet.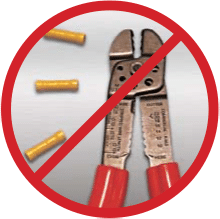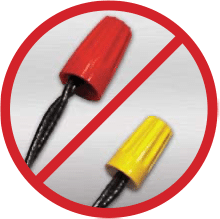 The CPSC strongly discourages the use of non-COPALUM crimp connectors, twist-on connectors, and CO/ALR switches and receptacles. Although, in an emergency and only for a temporary repair, AL/CU twist-on connector pigtails or CO/ALR devices may be used. A complete repair of the aluminum-wired system should be performed as soon as possible.
In summary, aluminum wiring can be a fire hazard due to the inherent qualities of the metal. Knob-and-Tube wiring can be a safety hazard due to improper modifications and the addition of building insulation. Investors should be wary of these types of wiring and the risks associated with each system. Your insurer should be made aware if K&T or aluminum wiring is present in your property. If the wiring type is misrepresented, the insurer could deny a fire claim caused by the electrical system.