Even if you own properties in states not as prone to subzero temperatures during the winter, it is important to anticipate an increase in incidents related to burst pipes. Here we've compiled some helpful information if there is an incident at one or more of your properties.

In the event of a winter storm and the subsequent volume of claims, be aware that there may be extended timelines for contact from an adjuster, inspections, and loss handling. Additionally, water mitigation and restoration companies may not be as readily available to assist.
Mitigating Loss
In order to mitigate damage or additional loss, take the following steps:
Turn off the water at the main.
If safe, take steps to pump out any standing water and dry the affected area to limit the damage. Mold can grow quickly if standing water is left.
Take care in areas of the property where water may have compromised the electrical system to avoid a dangerous situation. Turn off the electricity or switch off breakers as warranted.
For your benefit, please take reasonable precautions to ensure the security of your property so that no further damage is caused. These actions are also part of your obligations as an insured. For more information, see the "Duties in the Event of a Loss" section of your policy. Any expenses you may incur for a covered loss could be considered a part of your claim, so please retain your receipts for any repairs made.
Coverage Information
Coverage for water-related losses due to frozen pipes is considered a part of the Water Damage peril. Basic Form coverage does not extend coverage for water losses, and therefore damage from a burst pipe may not be covered if the policy coverage in place is Basic Form. Special Form policies will generally allow for coverage to the insured property for the ensuing water loss caused by frozen pipes. Some Special Form policies include limited coverage for Mold as a result of a covered loss. The image below provides a general outline of covered causes of loss for Basic and Special Form policies, but consult your policy for details.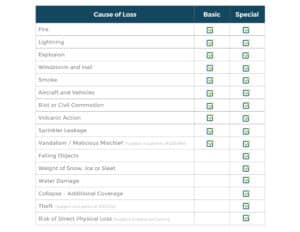 Submitting a Claim
If you have identified damage at your insured property and would like to report this occurrence, click here to fill out the Report an Incident form, providing as much detail as possible.
To assist with expediting the claims investigation, supporting damage and expenses due to your loss please retain the following to submit with your claim:
Take photos or videos of the broken pipes and subsequent damage
If you are able to replace frozen pipes before the adjuster is able to review the damage, keep the old pipes
Retain receipts or invoices for any cleanup or repairs made
Provide utility bills for the month prior and the current month, if able, to confirm that heat is maintained at the property
If you have any questions or concerns about your coverage, please contact us at 888-741-8454. Our office hours are Monday through Friday between 8:00 a.m. to 5:00 p.m. Central Standard Time. You may also email us at claims@nreig.com.