It may feel a little early to be talking about spring weather preparedness, but now is the time to start thinking about potential risks. You want to prepare your property before they present a real threat. You may be surprised at how much planning needs to be done as thunderstorms, flooding, and tornadoes approach. So, how can you prepare your properties and tenants?
Step 1: Get familiar with your risk
The United States has around 15 diverse climates with cities spread across nearly 2.3 billion acres of land. If you invest in several states, it can be a challenge to keep up with the changing weather conditions in each region. Communicating with tenants in a timely manner and operating proactively is crucial. Even if your properties are all located within the same city, the unpredictable weather we've experienced the past few years requires that you or your property manager be on the ball for anything that could suddenly drop out of the sky. The first step to minimizing losses is becoming familiar with the weather where you invest. The following maps show which areas are most prone to severe thunderstorms, hail, tornadoes, and flooding.
Severe thunderstorms & lightning

Source: https://www.weather.gov/jetstream/tstorms_intro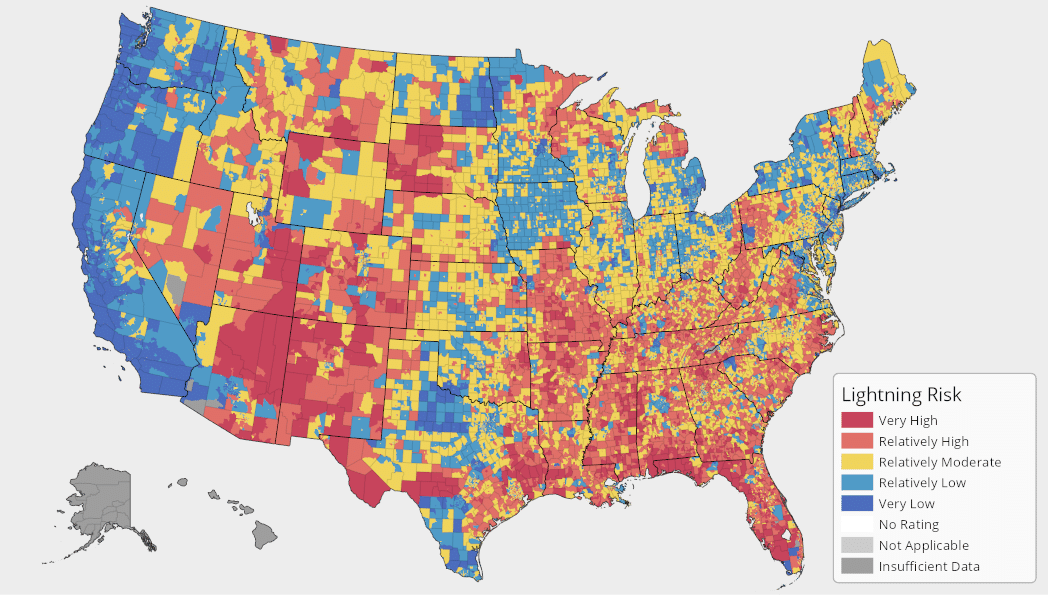 Source: https://hazards.fema.gov/nri/lightning
Hail
Source: https://hazards.fema.gov/nri/hail
Tornadoes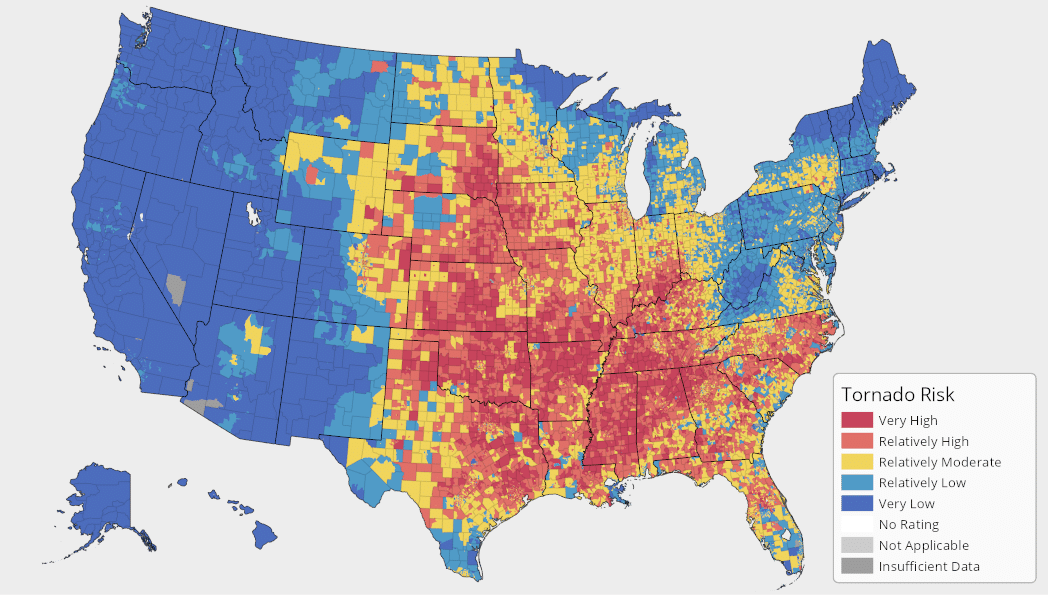 Source: https://hazards.fema.gov/nri/tornado
Flooding
At weather.gov's safety site, you can select a state on the map (pictured below) to learn more about the types of flooding experienced there and how you can protect lives and property. You will also find which National Weather Service offices forecast for the area and more.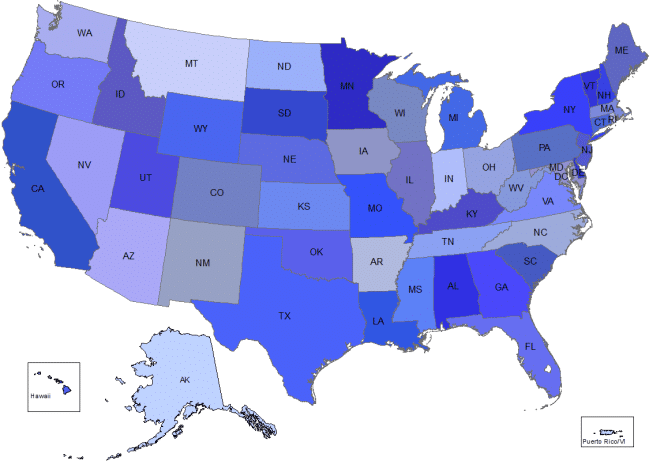 Step 2: Make a plan & take action
The second step to minimizing losses from severe weather is to make a plan and take action. Some actions you can take well in advance of a storm approaching, whereas other steps might not be possible or practical to do until just before the storm arrives. Either way, planning ahead will enable you to act swiftly to protect your property and any inhabitants in a severe weather event.
Specific preparation for common spring weather hazards
Catastrophic weather events can completely destroy your property and even minor storms can create costly damage. Storms may cause power outages that lead to sump pump failures, flooded basements, and damaged furnaces or water heaters. A lack of AC can create a ripe environment for mold growth, and it is possible that looters may take advantage of a lack of security due to power outages. Below are the four most common spring weather hazards and how to prepare for those risks.
Thunderstorms & Lightning
In most places, these storms can occur year-round and at any hour of the day.
Be sure your sump pump and security alarm are both connected to battery backups.
Use a generator during power outages. (Remember to keep generators and other alternate power/heat sources outside and never try to power the house wiring by plugging a generator into a wall outlet.)
If windows and doors have been damaged in a storm, board up your property to keep trespassers and vandals out.
Read about Lightning Safety on the NWS website.
Share this FEMA resource with your tenants: Be Prepared for a Thunderstorm, Lightning, or Hail 
Wind & Hail
Any area of the U.S. can experience high winds and hail, but the Midwest and Southeast tend to have an increased risk for damage caused by these two perils.
Secure loose gutters and downspouts.
Keep your trees and shrubs well maintained so they are more wind-resistant.
Remove dead or dying trees from the property so they can't fall on your investment, your neighbor's property, or a passerby.
As storms approach:

When there is a threat of high winds, move any deck furniture or other items that could become dangerous projectiles indoors.
Cover all windows. Install permanent storm shutters or board up windows with plywood to help prevent windows from being damaged. Tape does not prevent windows from breaking.
Brace garage doors with additional support from the inside.

Utilize tarps to help keep rain from entering the property and causing additional damage after the initial event.
Read about Wind Safety on the NWS website.
Share this FEMA resource with your tenants: Be Prepared for a Thunderstorm, Lightning or Hail
Tornadoes
The Midwest and Southeast generally have a greater risk for tornadoes.
Keep up on tree maintenance. Trim dead limbs and remove dead trees to keep flying debris from damaging the main structure.
Instruct tenants to bring in any outdoor furniture and deck or yard decorations if severe weather is in the forecast.
Build a "safe room" to FEMA or ICC 500 standards where tenants can seek refuge.
Read about Tornado Safety on the NWS website.
Share this FEMA Resource with your tenants – Be Prepared for a Tornado
Flooding
Any area can be overwhelmed by a flash flood, but some areas are more susceptible to flooding than others.
Check your flood risk on FEMA's Flood Map Service Center page.
Consider adding Flood coverage to your insurance strategy. Bear in mind that Flood coverage is always purchased separately from property coverage and if you choose coverage through the National Flood Insurance Program there is a 30-day waiting period for Flood coverage to go into effect. NREIG's program does not have any waiting period for Flood coverage.
Check the grading of soil around your foundation to be sure water will flow away from the house when it rains. Install additional drainage if necessary or regrade problem areas.
Make sure gutters and downspouts are clear of blockages to help shed water away from the home.
Test your sump pump before storms arrive to ensure it comes on when water flows into the sump pit.
Stack sandbags around the perimeter of the house and in front of entryways to prevent rising water from entering the property.
Read about Flood Safety on the NWS website.
Share this FEMA resource with your tenants: Be Prepared for a Flood
Insurance Coverages & Responsibilities
Don't wait until severe weather is headed your way (or after a storm!) to become familiar with your insurance coverage. As mentioned earlier, certain coverages (like Flood) aren't typically included in standard property policies. Discovering after the fact that you do not have coverage for certain disasters can severely harm you and your business. We are standing by to help you with any questions, so take advantage of your Client Service Representative's knowledge.
It is also important to know your responsibilities as an insured. You have a contractual duty to prevent further damage when a loss occurs at your property. Check the policy section "Duties in the Event of a Loss" for specific responsibilities. The items contained within this section are sensible and reasonable. You won't find any surprising requirements, only things that a prudent person would do in the event of a loss. Some examples might include; securing the property from unlawful entry after high winds and flying debris damage doors and windows or putting a tarp on a roof that has been compromised by tree damage. Lastly, reporting losses as timely as possible can help expedite the claims process and ensure that you don't lose coverage because you waited too long to report a loss.
In any type of loss, you will usually be required to:
Contact your insurance company in a timely manner to advise them of the loss.
Contact the authorities when appropriate.
If a crime has been committed, file a police report.
In the event of a fire, file a fire report.
Take photos or videos of the damage- or both.
Make any necessary temporary repairs to prevent further damage to the property.
Set aside any damaged materials for the adjuster to examine.
Save all receipts from any temporary repairs made.
Get an estimate from a reliable contractor. (Obtaining several is advisable.)
Mitigation Techniques
Boarding up a property
Properly boarding up your property can help deter thieves and vandals when a storm compromises entry points like windows and doors. Find reliable board-up tips from the United States Fire Administration here: U.S.F.A. Board-Up Procedures.
Fighting mold
Mold can set in quickly when a property has sustained even small amounts of water damage. Read "A Brief Guide to Mold, Moisture, and Your Home" to learn about causes, cleanup, and prevention. Reduce your risk of mold after a flood with tips found here.
Beware of Scammers
Sadly, some unethical individuals out there wish to take advantage of those who have just suffered a loss. Service providers might try to exploit your difficult situation by inflating your repair costs or pressuring you to sign a contract you have not read. Don't fall for these contractor scams.
The Oklahoma Insurance Department recommendations include, but are not limited to, the following advice:
Anyone who offers to get you more money for your insurance claim warrants additional caution.
Always hire an established, licensed, and fully insured company. Check the references they give you.
Reputable contractors should be able to provide you with their certificate of liability insurance. If they have employees, they should also carry worker's comp coverage.
To help ensure coverage is in force while the contractor is working for you, you can ask to be added as an additional insured on their policy. If the policy lapses or is canceled, you should be notified. In most cases, there is no fee to get you added to the policy.
Never pay a repair bill in full until the work is completed according to your contract with the provider.
A bid substantially lower than other bids for the same scope of work is usually missing something significant. Review all bids carefully to ensure there aren't items missing or unnecessary items added to the scope of work.
High-pressure tactics can be a red flag. Don't let the heightened stress following a loss cause you to rush the process of hiring a quality service provider.
Further Reading
For a broad overview of severe weather preparedness from FEMA, visit Ready.gov's Severe Weather Preparedness website. Our blog is also a great resource for mitigation and preparedness tips.